Tyler Trusted Leader in Restoration and Clean-Up, Since 1976
24/7 Emergency Services
Biohazard Cleanup Services in Tyler, Whitehouse, & Longview, TX
Cleaning up blood, human tissue, and other organic waste may seem mentally overwhelming to many. If there was a traumatic accident in your home or commercial space that includes blood, body tissue, body fluids, & other biohazards, then you can count on Dalworth Restoration Tyler to come & clean up the area. Crimes, incidents, and other death scenes require comprehensive cleanup & sanitization that our IICRC-Certified specialists do best!
We are a fully certified & licensed disaster restoration & cleanup company serving Longview, Tyler, Whitehouse, Henderson & other surrounding areas in East Texas. We have state-of-the-art cleaning & disinfecting equipment necessary to deeply clean biohazards from tragedic scenes. Give us a call TODAY at 903-320-4262 or click here for biohazard cleanup services for your property.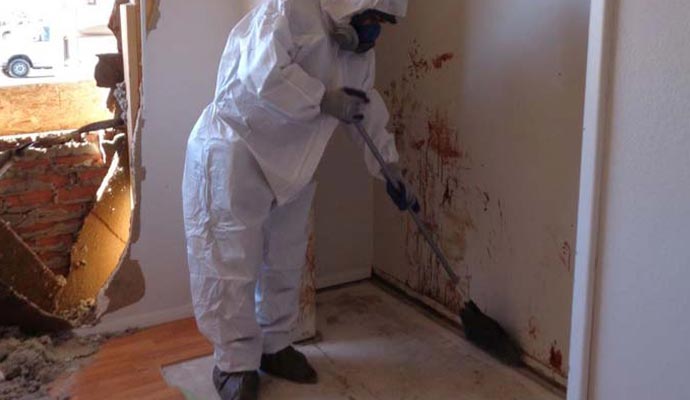 We Clean The Mess So, you don't have to
For commercial owners, the unexpected death of their customers might mean crime investigations, but who is going to clean blood stains and other scattered organic material? Your regular cleaning staff is not equipped with the tools to successfully remove blood stains, clean up organic tissue and disinfect the area from harmful pathogens. This is why you should rely on a qualified cleaning crew like Dalworth Restoration Tyler. We are East Texas' most skillful cleaning professionals who utilize powerful cleaners, disinfectants, and EPA-approved cleaning methods to eliminate biohazards. We are ready to respond 24/7 to emergency biohazard cleanup needs for residential or commercial customers in Tyler.
Professional Cleaning Services Since 1976
Dalworth Restoration Tyler is a professional disaster & trauma cleanup service provider with more than 50 years of experience. If you have human debris, tissue, or blood all over your property, we have the expertise to return hygiene to your property. Additional cleanup services other than biohazard cleanup include:
Sometimes, it becomes difficult to clean up the biological matter of someone you knew closely, and might also spark mental trauma. We can help you avoid such situations & provide proper cleanup services, removing odor, and blood stains from the root. Call in the clean-up professionals from Dalworth Restoration Tyler by dialing 903-320-4262 for biohazard cleaning services.