Tyler Trusted Leader in Restoration and Clean-Up, Since 1976
24/7 Emergency Services
Floor Water Damage Restoration in Tyler & Longview, TX
Water damage is now a common occurrence. Especially after a storm or flood. Hardwood flooring is particularly vulnerable to the devastating effects of water damage. Wooden floor absorbs moisture and moves it to the surface's deeper layers if the standing water remains on the floor for a long. That is why you should take the necessary steps to minimize further damage.
Don't be worried. Dalworth Restoration Tyler has been proving the most effective floor water damage restoration services since 1976. Our highly skilled technicians will reach you within the shortest time to restore your damaged floor.
Call us at 903-320-4262 or click here to make a reservation for our services at your East Texas property as soon as possible.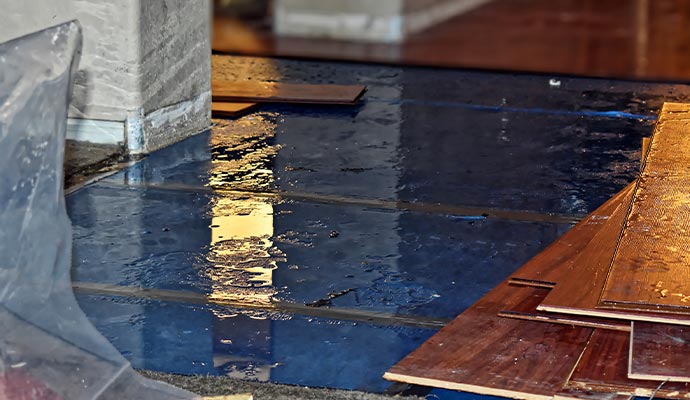 Common Signs of Floor Water Damage
You will notice below things if you have water damaged floor at your home or office-
Cracks in the floor: Dampness causes cracks in hardwood. Whenever they get wet, they start cracking.
Warping of the floor: Warping is primarily caused by humidity. As humidity changes, flooring frequently stretches, compresses, and separates.
Fade or discoloration: Due to excess moisture, hardwood becomes faded. If you find any slightest color change, you can consider it as a warning of floor water damage.
Presence of mold: Mold causes huge problems for wooden floors. The presence of mold on the floor is also a sign of floor water damage.
Odor: Dampness and mold create a musty atmosphere at your place. You will find unusual odor at your place.