Tyler Trusted Leader in Restoration and Clean-Up, Since 1976
24/7 Emergency Services
Disaster Restoration in Tyler, Whitehouse, & Longview
The property you own might be severely damaged by a natural disaster or another unforeseen event. Both natural and man-made disasters cause extensive damage to homes, businesses, and other structures. This is why our IICRC-certified technicians at Dalworth Restoration Tyler provide an extensive array of disaster restoration services when your property has been impacted by a tornado, hailstorm, blizzard, ice storm, lightning strike, or some other type of natural disaster.
We serve both commercial and residential customers in Tyler, Whitehouse, Longview, Henderson, Kilgore, and other cities within our service area in East Texas. To learn more about our products, services, and IICRC-certified technicians, give us a call at 903-320-4262 or click here to schedule a reservation for services at your property ASAP in Lindale, Jacksonville, or Athens. Our emergency crews are available 24/7/365 to provide 100 percent customer satisfaction.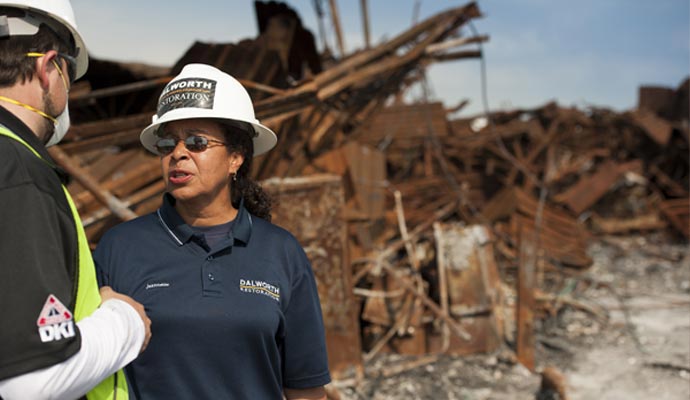 Your Comfort Is Our Top Priority
We help reduce the risk of further property damage with every job we're given. We promise to repair any damage caused by water, fire, or the elements at your home or office within our East Texas service area including Tyler, Longview, Lindale, and Jacksonville. Since 1976, Dalworth has set the industry standard for top-notch restoration services for customers in Texas!
Our versatile crews also provide solutions for water damage restoration, fire damage restoration, content restoration, mold remediation, and much more! We are full-service restoration experts who know how to effectively restore homes & offices following a natural disaster.
Let Us Help You Recover From a Disaster in Longview and Tyler, Texas
Have you encountered damage to your home or business from damage caused by water, fire, smoke, or some other disaster? When it happens to you, our emergency response team at Dalworth Restoration Tyler is available around the clock to restore your home or company after a disaster. We also provide services for water damage restoration, appliance leak cleanup, and assist with water damage insurance claims services for customers throughout East Texas. For more information, call 903-320-4262 or click this link to book our services ASAP at your property.