Tyler Trusted Leader in Restoration and Clean-Up, Since 1976
24/7 Emergency Services
Restoration Equipment in Tyler, Whitehouse, & Longview, TX
Experiencing any kind of water-related damage could be stressful and traumatic. This type of damage makes our space of living a mess. To get back our property to its pre-damage condition, high-quality restoration equipment is required.
After water damage, there can be excess remaining water that could damage the floor, wall, furniture, upholstery, rug, or carpet, and consequently, if not treated urgently mold might become visible. To remove this standing water and restore damaged structures or properties advanced equipment is mandatory.
If you need water damage restoration services, no need to worry. We the professionals at Dalworth Restoration Tyler have set a standard in restoring the water-damaged property. We use all types of equipment that are necessary to restore your property to its original appearance. Call 903-320-4262 anytime to know more.
Dalworth Restoration Tyler's Specialized Restoration Equipment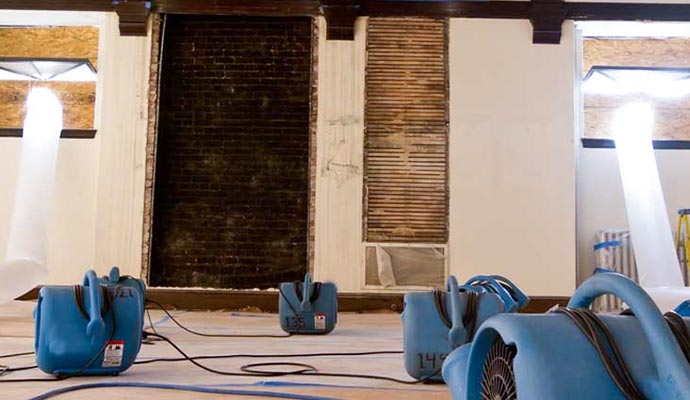 Our restoration experts use the following types of equipment to restore your water-damaged property-
Water extraction equipment/Air scrubbers: To extract all contaminated standing water from your house or office we use this equipment.
Air Movers: It collects the water molecules in the air and removes the water embedded into the materials.
Moisture detector: Damp walls and floors absorb moisture and promote mold growth. Moisture detectors can measure the level of moisture in the air.
Dehumidifiers: Damp air is produced as a result of water damage. Dehumidifiers remove moisture from the air.
Choose Us for the Best Water Damage Restoration Services with Advanced Equipment
We the technicians at Dalworth Restoration Tyler have spent more than 45 years providing superior restoration services for commercial and residential property owners. We serve in Tyler, Whitehouse, Longview, Henderson, Kilgore, and other cities within our service area in East Texas by using unique restoration equipment that is specialized.
We also have other restoration services like fire damage, storm & flood damage, content, disaster, etc. Click here to learn more or set up a consultation. Reach us by calling 903-320-4262 right away for getting professional services from us.