Tyler Trusted Leader in Restoration and Clean-Up, Since 1976
24/7 Emergency Services
Water Damage Restoration Process Across Tyler & Longview, TX
Water-related damage makes homeowners and business owners helpless and leaves them in stress. A sudden storm or flood damages your property badly and makes it a mess. Immediate action should be taken otherwise it leads to structural damage, and mold growth might occur.
You'll need to go through a complete water damage restoration process to return your house or place of business back to the way it was before the damage. No need to think much. Dalworth Restoration Tyler can be your savior at that time. We follow the proper process for restoration and also utilize top-notch techniques to return back your property. Call 903-320-4262 now to get services from us.
Our Complete Restoration Process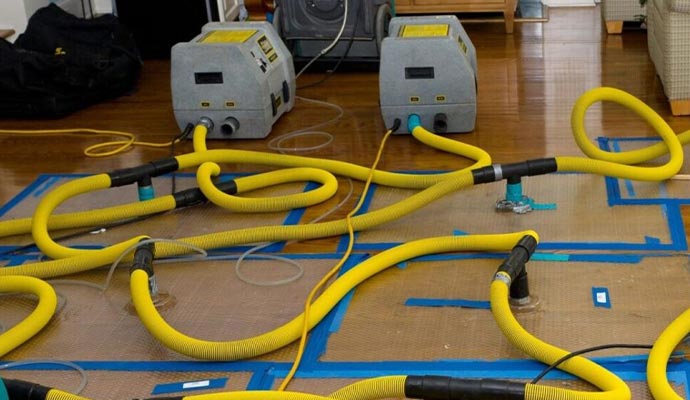 When dealing with water damage, our experts follow a complete restoration process that comprises the following steps:
Firstly, before determining the best technique of approach, our professionals thoroughly analyze all affected areas, substances, & surfaces.
Then, depending on the type of water, we categorize the extent and seriousness of the damages. In general, sewer water is significantly more dangerous than clean water from a pipe leak.
After we do the water mitigation process to extract the excess water fully from your property, we go for the drying process.
Afterward, we start the cleaning and sanitizing process. We also remove mold caused by water from the source. It's a part of our cleaning process.
Lastly, we start our restoration process. We restore your all damaged property and return back to your property as it was before.
Trust Dalworth Restoration Tyler for Best Water Damage Restoration Service
Whenever you need professional water damage restoration services, contact us. Our services are available in Tyler, Longview, Whitehouse, Kilgore, Henderson, and other cities within our service area in East Texas. We use a complete and unique restoration process for restoring the water-damaged area.
We also provide fire damage, storm & flood damage, content, disaster, etc restoration service. Anytime you need to restore your water-damaged area, call at 903-320-4262, or for more information just click here.